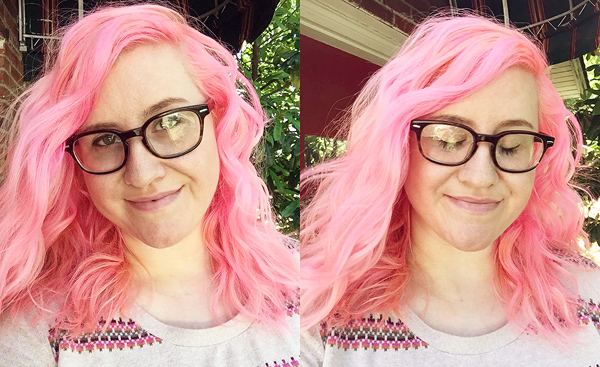 So, April was troublesome for me! As I posted before, March was a month of growth for me, and in a way I think April continued that trend, but with more of a "strength forged in the flames of adversity" angle. That sounds pretty dramatic, haha. But I did things this month that really tested me in terms of my anxiety disorder, and if I look back to where I was a year ago, let alone four or five (or even ten, since I first went into therapy in '05), the fact that I can tell that I have made progress -- even if it's very gradually -- is amazing to me. Honestly. If my self from the mid-aughts could see me now, she would probably cry. She never would've been able to imagine any of it.
Really, no normie would look at me or my life and think I am accomplishing anything big. People who can just do typical life stuff without it pinging on their personal Richter scale and having mental health ramifications... they don't get it -- they can't get it. Which is lucky for them. But I'm just happy that I got through April somehow, and even though it had its challenges.
Jeez, I'm literally listening to
Break My Stride
right now.
Anyway, yes, I did have computer troubles, health insurance troubles, personal and existential woes, and here at the tail end of the month I'm having a hilarious little health blip (no biggie!! Just kind of an "oh, of course, let's add to the pile" annoyance).
But I am relieved that I got the computer and health insurance stuff sorted (at least, I hope!!!!) and there's a lot of stuff I'm really grateful for:
that my little health thing isn't much worse
spending really nice time with my younger sisters
having work be calm enough that I could withdraw from the world a little and focus on other stuff
FRESH PINK ON MY HEAD
smooth sailing on a day where I had tons to do
rewatching Bunheads with my friend L
cheap nail polish... check these galaxy nails!!
Picked up some fabric the other day while at the craft store with my sister. I'm thinking new backdrops for video purposes, but also embroidery...!! I'm so weirdly stoked on the idea of embroidering right now but I'm not sure what to embroider, haha.
But let me tell you, winding embroidery floss onto tabs the other day was absolutely soothing. Now my yen to return to the craft store and fill out a few colors I'm missing or low on is tickling my brainpan.
Accio May!